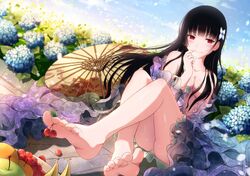 Sankarea (さんかれあ) is a romantic comedy manga written and illustrated by Mitsuru Hattori about a deceased girl who becomes a zombie. It is published in Japan by Kodansha. The manga was serialized in Kodansha's Bessatsu Shōnen Magazine between December 2009 and September 2014 and compiled in eleven tankōbon volumes. An anime television adaptation by Studio Deen aired in Japan from April 5 to June 28, 2012. A novel adaptation by Ryō Suzukaze was published by Kodansha in July 2012.
Plot
[
]
The protagonist, Chihiro Furya, is a male high school student with a keen interest in zombies, collecting zombie-related videogames, film and manga, and even to the point of desiring to "kiss a zombie girl". Following the death of his pet cat, Babu, he attempts to revive it using an old manuscript, which describes the process of creating a potion for resurrection. At this time he encounters a girl named Rea Sanka, who has run away from home.
In an attempt to commit suicide, she drinks a sample of the "resurrection" potion which is created from a poisonous herb known as Hydrangea macrophylla, however, this fails to kill her. Following an argument with her father, she falls from a cliff by accident and dies; however, as a result of the potion, she turns into a zombie. Though she becomes undead, she chooses not to consume human flesh, and rather survives on eating the hydrangea herbs.
Manga
[
]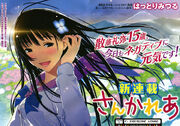 The original manga by Mitsuru Hattori began serialization in Kodansha's Bessatsu Shōnen Magazine. The series' first chapter was published in the magazine's January 2010 issue, released on December 9, 2009, and the last one ran in its October 2014 issue, released on September 9, 2014. The series was also compiled in eleven tankōbon volumes, published between June 9, 2014, and November 11, 2014. The 5th, 6th, 7th and 8th volumes were published simultaneously with limited editions. The 5th volume's limited edition was bundled with drama CD, telling an original story. The limited editions of the 6th and 7th volumes were bundled with a DVD containing an original anime episode each. The limited edition of the 8th volume was bundled with three bathroom posters with erotic depictions of the series' heroines.
Kodansha Comics USA have licensed the series in North America under the title Sankarea: Undying Love and have released all eleven volumes in English between June 11, 2013 and March 24, 2015.
See: List of volumes
Anime
[
]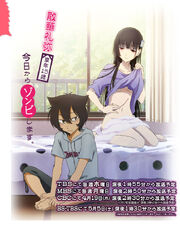 A 12-episode anime television series based on the manga was announced in the October 2011 issue of Bessatsu Shōnen Magazine, and aired in Japan between April 5 and June 28, 2012. Two original video animation episodes were released with the limited edition of the 6th and 7th volumes of the manga on June 8 and November 9, 2012. A third OVA episode was released with the 6th Blu-ray Disc and DVD volumes on November 30, 2012. The opening theme is "Esoragoto" (絵空事 lit. Figment) by nano.RIPE while the ending theme is "Above Your Hand" by Annabel.
The series has been licensed in North America by Funimation, released the series dubbed in English on Blu-ray Disc and DVD on October 1, 2013. It was then discovered that the release contained the edited version, Funimation has since recalled and postponed a release on Blu-ray/DVD with the uncensored material. No news was heard until a few years later, when Funimation announced a March 31, 2015 release for the uncut complete series. Customers who have received the edited version can opt to return their copy for refund or exchange their copy for the unedited version when it is distributed. MVM Films has licensed the series in the United Kingdom.
See: List of Episodes
Novel
[
]
A novel adaptation was published by Kodansha under their Kodansha Ranobe Bunko imprint on July 2, 2012. The novel, titled Sankarea: All Night-Rea Long (さんかれあ おーる・ないとれあ・ろんぐ), was written by Ryō Suzukaze and illustrated by Mitsuru Hattori.
See: Novel
Videos
[
]